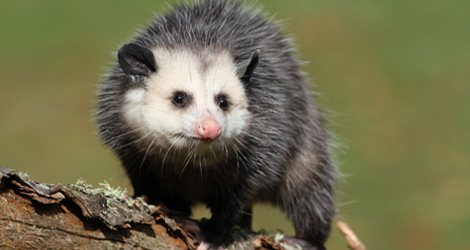 Are you facing a possum invasion inside your property? These small creatures are very opportunistic scavengers who can be noticed stealing the pet food or garbage from the yard. They generally live under a deck or shed but can also inhabit an attic. Possums are host to various parasites that can lead to loss of hygiene and pet infections.
Possums are a common nuisance animal in North America including the regions of Ontario. If you are struggling to get these animals away from your premise, don't hesitate to give Kitchener Wildlife a call. We are a trusted wildlife control company that is proudly offering highly reliable and durable possum removal in Kitchener.
Signs of Possum Infestation
Though possums can be easily seen moving, most of the times their presence goes unnoticed. If you have one or opossums residing in your house, look for the following infestation signs to make sure whether they are really there or not:
You suddenly start hearing some unusual noises like someone is walking around or thumping in the attic particularly at the night.
There is a presence of droppings just like the size of those of a housecat and urine in the closed off spaces like attics and basement.
The appearance of bundles of leaves and other yard debris that is all confined in an area which is typically used to create nests
What We Do?
At Kitchener Wildlife, we are your locally owned and operated possum control service providers who are backed up by the services of Kitchener based licensed and insured possum removal experts. No matter, you are looking to get possums removed from your home or office, we are right here to assist you. Some of our services include:
Possum Removal
Possum Trapping
Possum Exclusion
Possum Control
Possum Prevention
Why Choose Us?
Kitchener Wildlife takes immense pride in delivering 100% client satisfied possum removal and prevention service in Kitchener. Our wildlife controllers are familiar with the habitats and behavior of the possums and are expert at humane trapping and removal. Few reasons to choose us include:
Fully Licensed and Insured
Emergency Possum Removal
Residential & Commercial
Safe & Humane Treatment
Damage Repairs & Prevention
Transparent & Budget Pricing
Get Rid Of Unwanted Possums! Call us today.